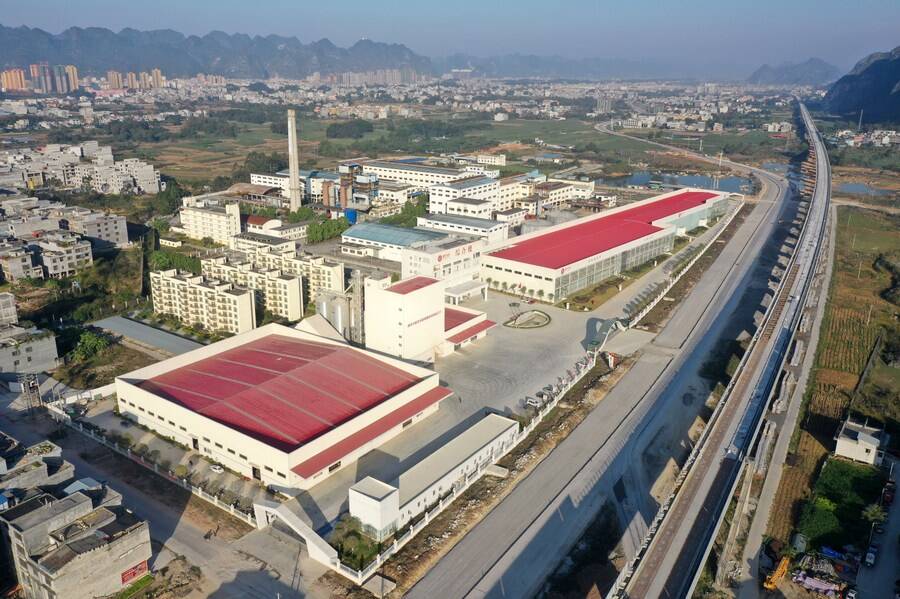 Aerial photo shows a cold-chain processing factory in Du'an Yao Autonomous County, south China's Guangxi Zhuang Autonomous Region, Dec. 1, 2021. (Xinhua/Lu Boan)
BEIJING, June 6 (Xinhua) -- China will advance cold storage facilities construction in agricultural producing areas to better serve the rural industry and raise farmers' incomes, said a circular issued on Monday.
Market entities will be encouraged to establish and renovate cold chain distribution centers in producing places, said the circular jointly released by the Ministry of Agriculture and Rural Affairs and the Ministry of Finance.
The country will improve services, including sorting, grading, primary processing, and distribution in these areas, and build digital and intelligent refrigerated storage facilities.
Leading fresh agricultural products producing counties will be given priority to establish refrigeration equipment, while qualified areas could build e-commerce industrial parks for agriculture based on their cold chain distribution centers, the circular said.
With the support of various policies, the national cold storage capacity has steadily increased by 10% every year in recent years. By 2021, the total capacity of cold storage in China has exceeded 50 million tons. However, there are still some problems in the development of cold storage in China, such as uneven distribution and insufficient per capita data, which has a large space for development.
Cold storage construction continues to encounter "hot". As a one-stop cold storage refrigeration equipment supplier, THERMOJINN adheres to the principle of quality and service, strengthens the cooperation and innovation between industry, university and research, expands the service field, focuses on product quality, provides customers with more reassuring cold storage construction services, unblocks logistics congestion, helps rural revitalization, and unblocks the domestic economic cycle.
---
Post time: Jun-03-2019